Naxos Music Library (NML) is the major online classical music library in the world. It aims to offer music resources for users, for examples, CD sound tracks and even text sources. Also, it provides nearly one hundred thousand CDs with over 1.4 million sound tracks. You may download NML mobile apps to listen a wide range of music, including Pop, Jazz and Chinese Orchestra. 【中文說明請見此文章:來一場夏日音樂饗宴–Naxos Music Library介紹】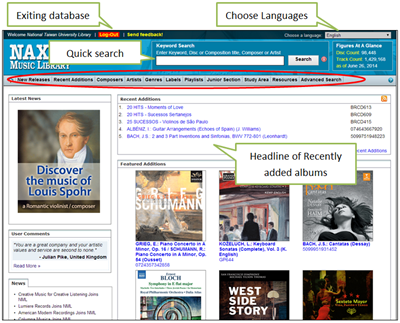 You may use keyword searching to find a specific album by typing title of music, name of the composer(s) or artist(s). From the above homepage of NML, there is a functional bar provided for users to browse music resources. Also, user comment, updated news and recently added albums are shown in the homepage.
–
1. Recent Additions
You may browse all newly published albums, for instance, Marco Polo, Naxos. "Featured additions" is a selection of albums recently added to NML and you may click the CD cover for more detailed information.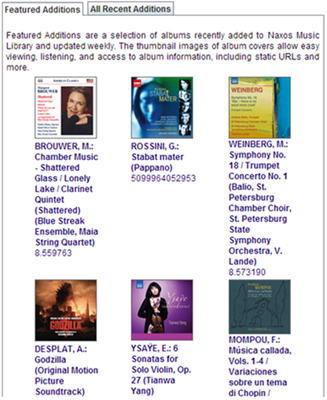 –
2. Composers and Artists
For "Composers" and "Artists" section, it is a list of biographies and discographies of the world's greatest composers and artists. You can search the album by composer or artists' surname respectively.
–
3. Genres
It offers a list of 13 types of genres (musical styles) for users to choose from. The following is some of the description of genres:
Classical Music – includes art music, encompassing a period from the 11th century to the current year. Its subgenres includes Ballet and Concertos etc.
Contemporary Jazz – is a combination of other musical elements and Jazz style.
Blues (Legends) – characterized by specific chord progressions
Chinese Music – is a wide range of Chinese orchestral music as well as traditional and folk music performed on Chinese instruments.
Gospel (Legends) – is Christian music and characterized by dominant vocals.
–
4. Listening to music and Playlists
Users may listen to their favorite music that are stored on playlist (within university campus). After creating an account, you can use the "Add to Playlist" function.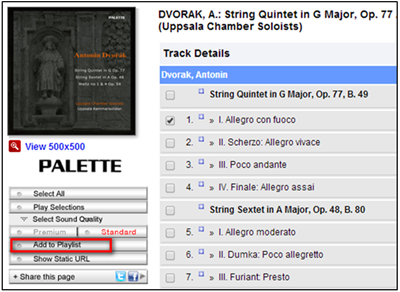 You may find the music track in your own folder. Click

button to listen the track directly. A "Naxos Music Library Media Player" is shown.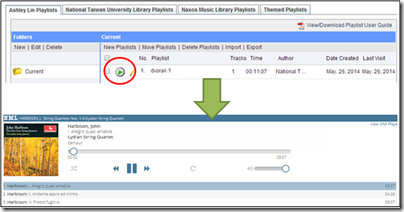 –
5. Junior section
This section is designed for young people and aims to educate them about classical music. It is separated into three parts which are the stories of classical music for kids, meet the instruments of the orchestral and the Universal Children's Audio music.
–
6. Resources
It includes various music theories and fundamental knowledge.
Pronunciation guide – is one of the sections which guide users to recognize the correct pronunciation of the composers, performers or some musical terms by alphabetical order. You may click on button to hear it.
Glossary – provides a large number of music terms or glossary by alphabetical order. A description is shown after you clicking the terms.
Graded Music Exam Playlists – is a list of examination music, which organized by two examination boards.
–
7. Searching in NML
To enter a query, type keywords in a search box and click the "Search" button.
* Searching tips:
NML is not provided wildcard or word stemming to search, e.g. *.
Use quotation mark "" to find an exact phrase, e.g. "Dancing Queen".

Advanced search:
Using advanced search is effective for you to limit your search and find your exactly music tracks. At the right hand side of each field, there is a button. If you are wondering what information should be filled into the box, you may click and browse the options according to the alphabetical order.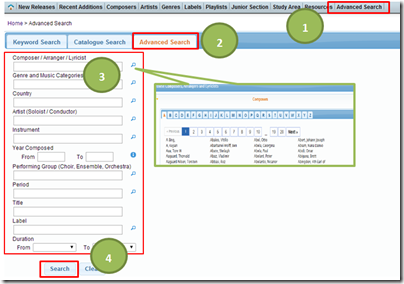 –
To illustrate the searching in NML, the following is the sample search:
Find Antonin Dvorak's (德弗札克) works
Step1. Select "Advanced search"
Step2. Type in the composer's name in the composer / arranger / lyricist field and please remember that you should put surname first, forename at last.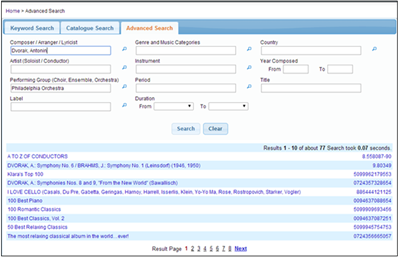 Step3. Click one of the works and you may select either one that wanted to play.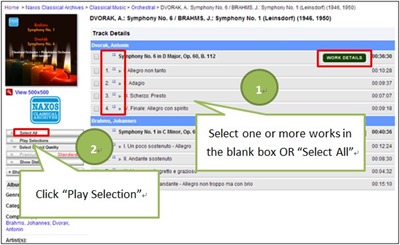 Work Details à Introduction, related recordings and/or work analysis are provided.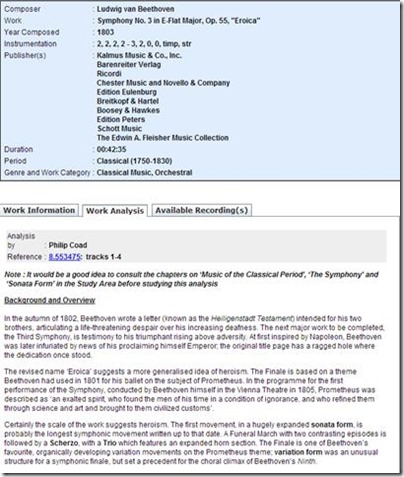 –
Let's play around with it and discover your favorite music in NML! Enjoy your summer!
---
Written by YoYo Cheung, Intern from The University of Hong Kong.
特別感謝香港大學資訊管理系實習生張楚瑤同學翻譯及撰寫此篇英文文章!